For the month of December, on Tuesdays, Emily has invited us to unwrap our gifts with her at Chatting At the Sky.  Join in if you would like. You can find the how, what, and when, here.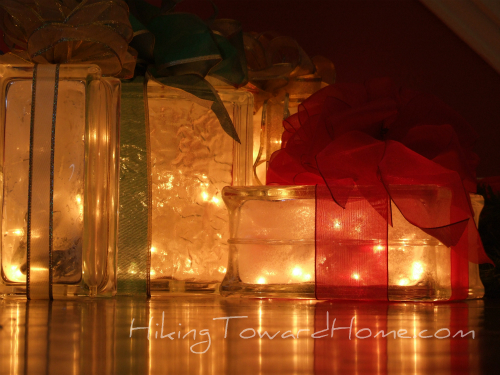 The comparison game continued… Part 1 can be found here and Part 2 can be found here.
Another gift unwrapped… (the first can be found here)
The Holy Spirit spoke so clearly about another area where the comparison game was played in my mind.
I kept stumbling at having been up against a double standard in my past that changed my life – turned my world upside down.
I know that it was for my good. It was necessary to be broken free of that bondage so I could walk in liberty. That same liberty Paul tells us to 'stand fast' in when he wrote Galatians 5:1.
Being told, "you can't  —" even though others are  — (very publicly), caused me to doubt myself. How was it  okay for them but not for me?
I struggled with this and was stuck in this quagmire too long.
I saw it from the negative vantage point of "God has shown 'favor' to them because they are allowed to — with no repercussions therefore God must hate me." Oh, how well this fit into Beth's illustration.
This is a comparison issue at it's root and THIS IS ALSO FALSE.
God doesn't hate me!!
Not only was I seeing it from the wrong viewpoint but it caused me to plod down that spiral of depression, stripping from me self-worth and self-esteem. It made me de-value myself.
I do have value.
Galatians tells me I am a child of God.
"For ye are all the children of God by faith in Christ Jesus." Galatians 3:26
Wooohooo! Hallelujah! I need that reminder. I am so forgetful of God's promises to me.
We need not ever ask, "but what about them?"
In John 21 we read a conversation between Peter and Jesus in reference to John. Peter asks Jesus, "Lord, and what shall this man do?" Peter was playing the comparison game wasn't he? He was comparing his future ministry with that of John's. He was comparing God's will for John and God's will for him.
Jesus responded with, "what is that to thee? follow thou me."
Jesus whispers,
Don't look around at others.
Just. follow. Me.
Ever find yourself playing the comparison game?