So I said in my last post about Sushi that there was another post about sushi coming.
Here it is.
Who knows if there will be more…
On Friday night, I went out with my brother and the sushi was so good I just had. to. have. more.
I said it was a new addiction.
I asked a sweet friend of mine, who I knew posted about sushi on her Instagram account, where she like to go for sushi that was close by where we live. She told me of a local sushi place and raved about how it was her favorite place to have sushi. Many others I have spoken to since going to Johnny's have spoken highly of Johnny's and how it is the best sushi in the vicinity of where we live.
Now I have got to say. I have driven by this Johnny's many times and thought, "Really? Sushi in Ceciltucky?" and I am not the only one who thought that. I found a review on YELP! by a Jamie S. called "Don't Judge A Book By It's Cover" and I laughed when I read the review because it said exactly what I thought.
I've been driving past Johnny's since it opened and just now tried it last weekend. Wow, I'm impressed. What took me so long to check this place out? Oh, I know. Because it's a sushi house in Ceciltucky. For years all signs pointed to "[…]!" But that's the sushi snob in me talking. Came in here with my lady to finally try this place out and our expectations were surpassed by quite a bit. Now, let's talk about the 4 stars here. We need to grade on a curve because this sushi joint is located in Perryville, MD so that already makes me a bit iffy. It was not the best sushi I've ever had but I was not expecting that. But for Cecil county sushi? I'm a fan.
So I am not the only one that had doubts about a sushi joint in Ceciltucky.
After church on Sunday, my husband took the younger kids to go watch the Superbowl with his mom, leaving my parents and my oldest daughter and I on our own.
So, off to Johnny's Sushi House we went!
Oh. My. Goodness.
It was so delicious!!
Again, I started with Shrimp and Vegetable Tempura. It was very good.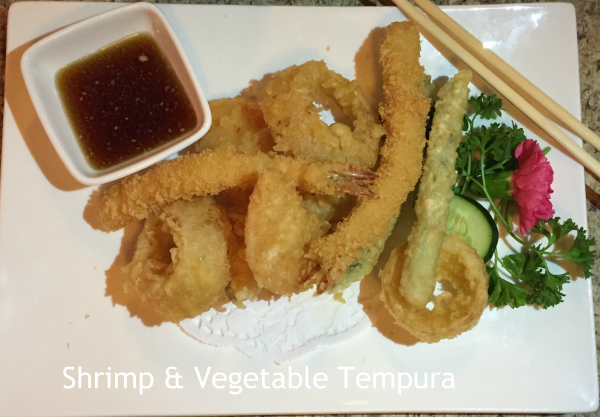 It had different vegetables than Joss had offered.
Both places though served Sweet Potato Tempura and it was my favorite in both restaurants.
My daughter and I chose two rolls apiece and decided we would share them piece for piece. That was a great way to order because we ordered what we chose but were able to try the other's choices of rolls.
My daughter ordered a Paradise Roll and a Sweet Sixteen Roll.
The Paradise Roll consisted of a center of smoked salmon, cream cheese, and cucumber rolled and then topped with cooked shrimp and avocado. One thing we both liked about the Paradise Roll is that you could taste the smokey flavor of the salmon but it didn't overwhelm the other flavors in the roll.
The Sweet Sixteen Roll consisted of a center of cooked shrimp, cucumber, cream cheese, and mango. The outside of the roll consisted of crabmeat, crunch, and sauce.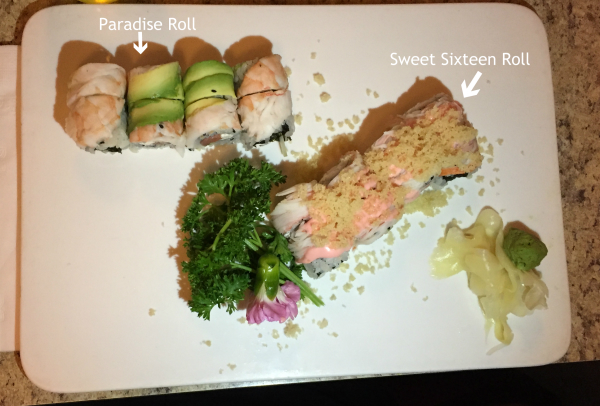 I ordered the Coconut Shrimp Roll, figured I would again "stay safe" and order cooked food as opposed to raw.
The Coconut Shrimp Roll was very tasty. The inside was Shrimp Tempura, cucumber, cream cheese, wrapped in Soybean paper with flakes and sauce. Although I don't see any "flakes" on the outside of the roll, whether it was inside the wrap or not there at all, it was still delectable.
The Hawaiian Roll was crab meat, avocado, cucumber and mango rolled up and covered with cooked shrimp, and drizzled with strawberry and mango sauces. This was another scrumptious dish.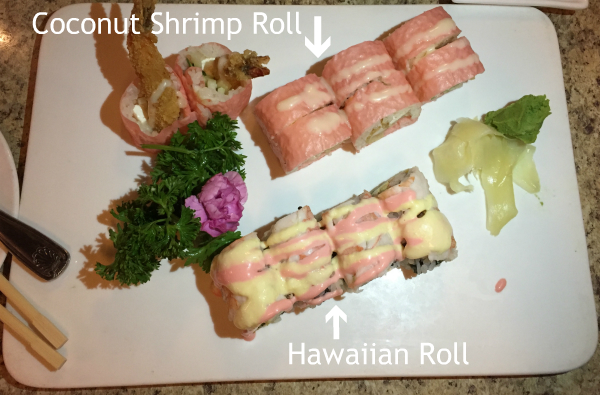 I have no idea what my parents ordered. They ordered some sort of combination that included a chef's choice so even though they ordered the same thing, they both had something a bit different from the other but it all looked good and they were quite happy with it.
Mom's combo platter:


Dad's combo platter:


I enjoyed everything my daughter and I ordered. I don't think I can pick a favorite because it was all good and there is nothing I would not order again. We were all quite satisfied with our meals and I would recommend Johnny's Sushi House and plan on going there again very soon.
My dear sweet wonderful husband has yet to have sushi with me.
He won't commit to saying he will go with me for sushi. He's funny. Every time I bring it up he changes the subject. I am working on him though.
I am determined. I will wear him down.
Or at least drag him along and make him watch me eat it!!
The good thing is that each of these places do offer food that is cooked and Johnny's does have other menu items more along the lines of a chinese restaurant included on their extensive menu.
(Disclaimer: Johnny's has no idea I have written this post. I have not been compensated. These are my honest opinions.)
(**Clarification: Self-proclaimed Rednecks, who live here, call our county- Cecil County, "Ceciltucky." It is a reference that, though we are somewhat northern (though south of the Mason – Dixon line), our county is very "southern".**)