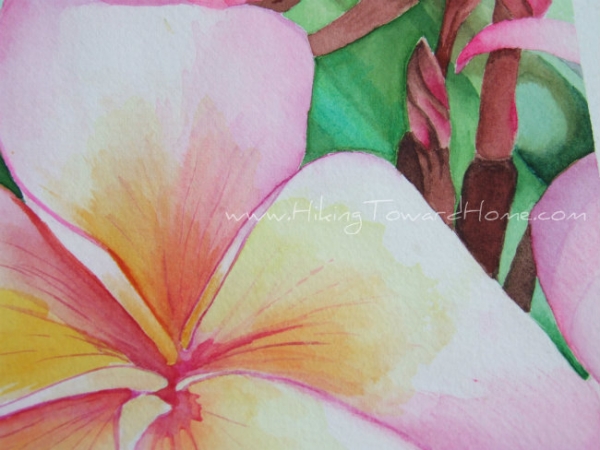 I know.
"Part 7" Seems like overkill.
I was about to publish a post about the paintings I did this past spring and it just didn't seem right to leave a huge gap in the story.
After the Relevant 2010, hearing Ann equate being creative to worshipping God, I went home and wrote an article about wanting to paint but fearing the mess I would make since I had not done it in eighteen years.  It ended up published on (in)courage in July 2011, just as my husband resigned from the pastorate and we hit the road for a much needed vacation. I had no idea the article had been published.
I figured I had better get painting if I am going to publish words like that for all to see!
I began working on a watercolor of plumeria from a photo I had taken at the Crocodile Farm in Davao City, Philippines. It took me several months to finish because I started it during a time when our lives were in flux. Since my husband resigned, we had to find a new home to live in and God needed to give him a new job.
The watercolor was finally finished in our new home and I wrote about it in June of 2012.
While I was painting, Holley was writing.
Holley Gerth read the article on in(courage), and even commented that she was working on writing a book just then and was currently working on a chapter about fear. Holley ended up including my words in her book You're Made for a God-sized Dream, which was published in March of 2013.
I put way the paint brushes.
While attending Allume in October of 2013, I picked up a copy of Holley's new book.
I did not read it right away.
I didn't discover my words in Holley's book until January 2014.
You can read that whole story here. Reading my words in her book served as a reminder that I had  dropped the ball. I had not followed through. I had done ONE PAINTING and stopped.
After reading my words published again for all to see, I started sketching with a pencil again. (I included those pencil drawings in Part 5.)
It wasn't until spring of 2015, this year, that I actually picked up a brush again.
*This is where I am going to conclude my "Art Journey" series. As promised, I will review a few books that encouraged me along over the course of the last few years. However, I feel like this story only goes forward from here starting with the three paintings I did this spring. Which I will post about soon! So don't miss out on the next part! If you haven't already and you don't already get my posts delivered to you by email, sign up right up there in the box labeled "Keep up with my Hike".
Thanks to all of you who are following along and faithfully reading.
Is there anything you need to get back to doing? Anything you started that you need to finish or pick back up again? Tell me about it in the comments below, I'd love to hear about it!
If you have missed the beginning of this story you can read it by clicking the links below: