I have never been a sushi fan.
It is raw fish.
Otherwise known to me as BAIT that you catch other fish with.
I could never get past the RAW part of "raw fish".
It sounds nuts, but…
I have been craving sushi.
I said it's nuts.
But I have.
I had a small taste of some tasty sushi on Christmas Eve that I just had to try it again!!
It was so yummy! I know it had shrimp tempura in the center with avocado and rice and cucumber maybe? I don't remember exactly but I do remember the shrimp and the avocado and a brown sauce, which I found out later is called "eel sauce," drizzled over it.
Since I was craving sushi, my big brother took me out for some amazing sushi at Joss Cafe & Sushi Bar, in Annapolis, Maryland.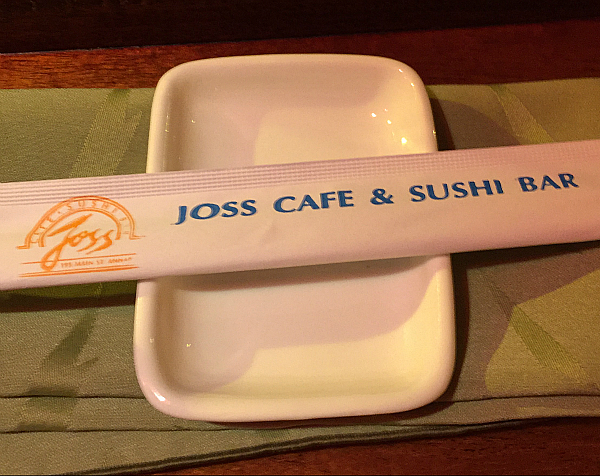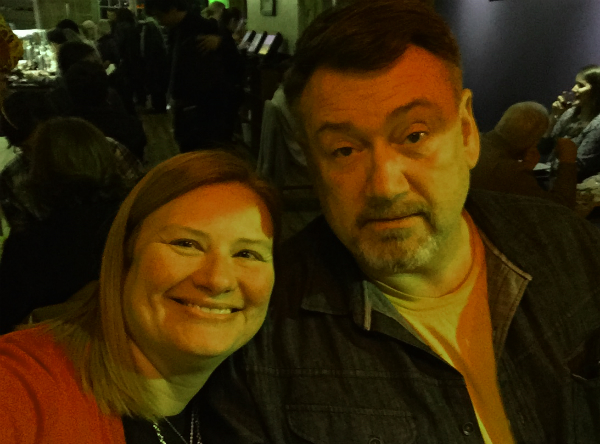 (Please excuse the weird color of the photo; it was dark and we were sitting in front of a glass window that had neon signs hanging in it.)
He has been eating sushi for years so he was an old pro at ordering.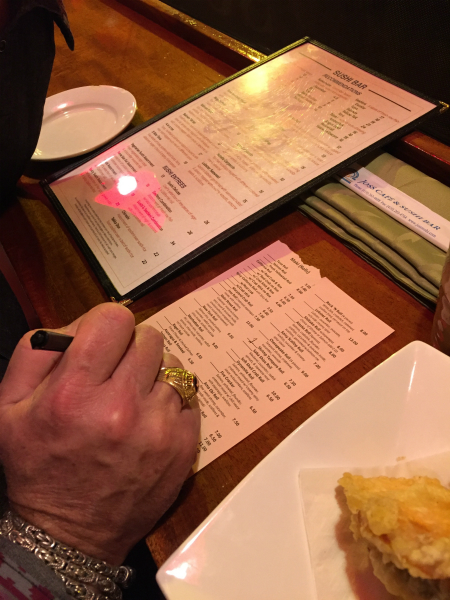 We decided I would pick a few things I felt were "safe" and then he would order some stuff he liked that he thought I should try.
For appetizers I ordered "safe" items (read:mostly cooked), shrimp and vegetable tempura,


and beef negimaki, which is thin sliced beef wrapped around scallions and grilled with teriyaki sauce.


I ordered a shrimp tempura roll, which was delicious, and Escolar nigiri.
The Escolar nigiri was at the suggestion of my mother. She told me that there was a fish I would like that was pure white and melted like butter in your mouth. Talking to the waiter of her suggestion he figured that Escolar is what she was referring to. Not sure if it was but it certainly fit the description she gave and DOES IT EVER MELT IN YOUR MOUTH!  So tasty!


We had Chesapeake Rolls which were rolls stuffed with tempura shrimp, crab meat, cucumber and avocado. Those were very good but a bit big and cumbersome to dip and eat.
My brother ordered the Sushi & Sashimi Combination with a Dynamite Roll (which consisted of  salmon, yellowtail, flounder, crabmeat, mixed with creamy spicy sauce with cucumbers and scallions.)


The Flounder Sashimi was good but not my favorite. It was the one I chose not to have more than one piece of. When we both put it in our mouths and tried to describe the flavor to each other, my first thought was, "it tastes like dirt" but then my brother chimed in with, "but really good dirt". We decided "earthy" was a more proper term for it.
The Tuna Sashimi was my favorite. If you have ever had good raw beef, that is what it tasted like.
My second favorite was the Escolar Sashimi. It truly tasted like butter and melted in your mouth.
The Yellow Tail Sashimi was sort of nondescript and the Salmon Sashimi tasted like … well… salmon.
None of the fish tasted fishy.
Which was a good thing.
There are a few things that I learned while eating out with my big brother.
I eat way to fast on a normal basis.
Sushi, sashimi, etc., need to be eaten slowly to enjoy the mix of flavors in your mouth.
Sushi is rolled.
Sashimi is a chunk of raw fish.
Nigiri is a chunk of raw fish over a wad of rice.
Bait isn't bad; it can be quite tasty.
I have a new food addiction.
Have you ever had sushi?
If you have, where is your most favorite place to get sushi?
What is the best sushi you have ever eaten?
Do you have a favorite roll or ingredient?
Tell us about it in the comments! (You never know when me or another reader will be in your neck of the woods and in search of a good sushi restaurant.)
I highly recommend Joss Cafe & Sushi Bar on Main Street in old town Annapolis, Maryland.
This is my first post on eating sushi.
Yes, there is another one coming…
(I have not been compensated for this post. Joss Cafe & Sushi Bar has no idea who I am or that I wrote about my experience in their restaurant.)
::